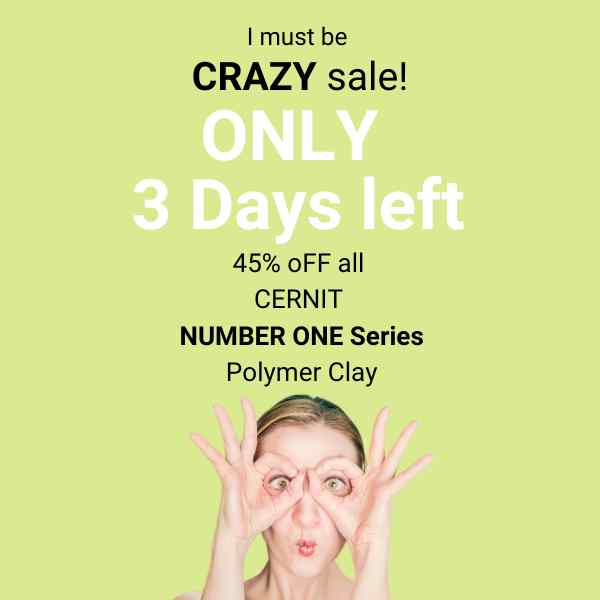 You won't want to miss out on this amazing deal!
For only three more days, you can take advantage of a CRAZY sale on Cernit NUMBER ONE Series Polymer Clay.
This high-quality clay is perfect for all sorts of projects, from jewelry making to sculpture.
And with a whopping 45% off, you can stock up on all the colors you need without breaking the bank.
Don't miss out on this incredible opportunity.
Find all of our Cernit brand products here. 
Last Chance to Save on Cernit Number One Series Polymer Clay!
Our CRAZY 45% off sale is ending on October 1st at midnight EST, and we won't be holding it again.
If you've already subscribed to our newsletter, you were the first to know about the sale and you got first crack at all the fantastic colors available!
If you're not on our list yet, here's your chance.  Sign up here and be the first to know about everything we offer.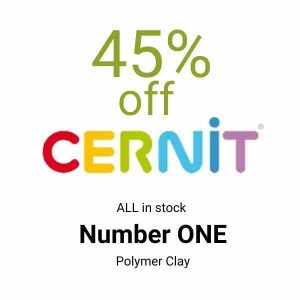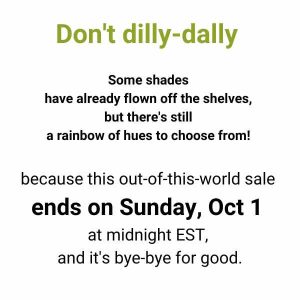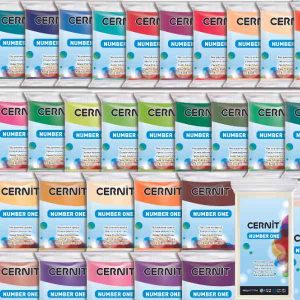 OLDER POSTS BELOW
FREE 56g package of Cernit brand polymer clay
I would like to show you my appreciation by giving  you a little giftie.
For a limited time, when your order reaches a minimum of $100, I'm delighted to include a complimentary 56g package of Cernit clay with your purchase.
I'll choose the colour so it'll be a surprise!  🙂
My intention is to elevate your artistic endeavors by providing you with top-quality materials that will help you express yourself. 
Feel free to share this exclusive opportunity with fellow artists who would appreciate it.
Together, let's inspire and nurture creativity.
You can find all of your creative supplies here.  Looking for something in particular?  Just type it into the search box in the upper left corner of the website. 
Spend $100 (before shipping and taxes) and I'll include the free gift with your order.
This is a limited time offer. 
All 3 of your favourite polymer clay brands are now the same price.
Yes, we had to raise the price on all of our Sculpey Premo and Sculpey Souffle brand clays but we also did something that might surprise you.
We've lowered the price of Cernit to match! (I'm referring to the small packages of the 3 clay brands.)
I realize that some of you had to choose the clay brand based on the cost, so now all of the small packages are the same! $3.99
I hope this makes your choice of clay brands easier now.