Cernit
Shades of Clay is Your Source for Cernit and more...
Cernit is a top quality, oven baked polymer clay  manufactured in Belgium. Cernit polymer clay has a variety of lines including Metallic, Number 1, Pearl and Translucent.  Shades of Clay is the largest Canadian retailer of Cernit polymer clay in Canada.
Showing 1–12 of 20 results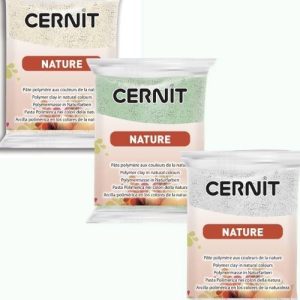 Quick View
Cernit Polymer Clay  Nature Series  3 Colours available 56g each
Cernit Polymer Clay is an oven-baked clay and therefore won't harden when exposed to the air even for long periods of time.
The Cernit Nature range has 3 colours available in 56 gram packages. Basalt, Granite and Savanna.
Set is 1 of each colour OR purchase colours individualy now.
Cernit Colour Chart  Ana Belchi has been kind enough to let us use photos of her work. See a great video by Ana Belchi here.
See below for workshop and tutorial info offered by Ana.
Showing 1–12 of 20 results