Jacquard
Shades of Clay is Your Source for Jacquard and more...
Jacquard products are a high quality, industry standard art supplies. Jacquard creates paints, alcohol inks PearlEx mica powders and more available in Canada.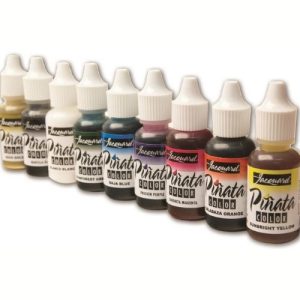 Quick View
The Pinata Color Exciter Pack - SAVE  
The Pinata Color Exciter Pack is the ideal introduction to these wonderful transparent alcohol inks.
Save over $8.00 if you purchased these colors separately!
Pinata Colors are beautiful, color-saturated, acid-free, transparent inks. They are alcohol based making them indelible and moisture resistant when dry.
Highly versatile, transparent, alcohol-based Piñata Inks are great for: glass, leather, wood, paper, plastic, metal, metal foil and vinyl.
Please note: The colours in this exciter pack have recently changed to 9 of the favourite colors.
This package contains 9 X 0.5 ounce bottles of Pinata Color:
Sunbright Yellow, Calabaza Orange, Blanco Blanco, Passion Purple, Baja Blue, Mantilla Black, Senorita Magenta, Rainforest Green and Rich Gold.