Premo Souffle
Shades of Clay is Your Source for Premo Souffle and more...
Polymer oven-bake clay is for making everything from jewelry, art dolls,home décor, sculptures, decorations and more.  Polymer oven-bake clay is soft and malleable and won't dry out when exposed to air.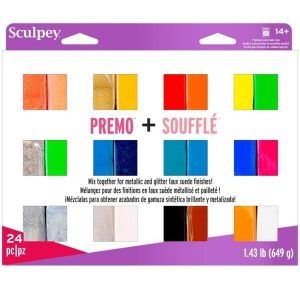 Quick View
Sculpey Premo and Souffle Multi Pack - 24 Colours X 1oz each
This multi-pack combines two of the most popular clay brands together - Premo™ metallics and glitters and a versatile range of colors from Soufflé! Mix these two brands of clay together to create beautiful jewelry, home décor and mixed media projects!
Includes 12 X 1 oz pieces: Sculpey Premo™ Rose Gold Glitter, Copper, Yellow Gold Glitter, 18K Gold, Gray Granite, Bright Green Pearl, Peacock Pearl, Galaxy Glitter, White Gold Glitter, Silver, Pearl, Frost White Glitter
Includes 12  X .9 oz pieces: Sculpey Soufflé™ Cherry Pie, Pumpkin, Canary, Shamrock, Sea Glass, Bluestone, Cornflower, Turnip, Poppy Seed, Cowboy, Latte, Igloo
More info below.
Quick View
NEW  The Souffle Bundle Now 31 Colours in all + Free Stainless Steel Bowl
SAVE It's like getting 3 packages of Souffle FREE + a mini stainless steel bowl 
Order all 31 Souffle polymer clay colours with just one click and receive a stainless steel bowl for free. Perfect for when baking  polymer clay on a curve is desired.
Sculpey® Souffle Polymer Clay is an innovative lightweight, strong clay with a suede-like finish + the ability to hold detail.
See below for a list of all 31 colours included with your bundle and for more info about the bowl included.