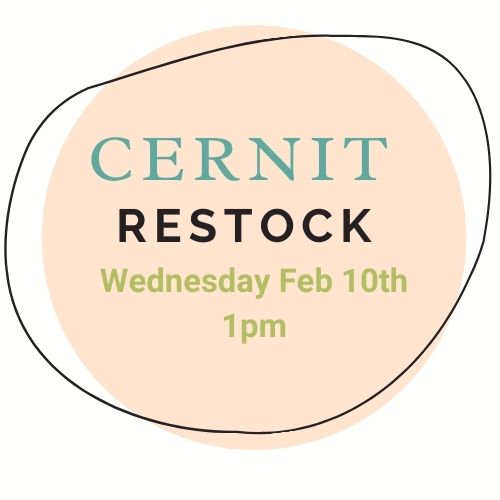 Cernit Polymer Clay Restock Wednesday Feb 10th 1pm 
Our supply has been replenished in a HUGE way!
It's been such a long wait hasn't it?
We brought in several additional, yummy colours in the No1 series.
Champagne, Caribbean, Sky Blue, Navy, Peach, English Rose, Sahara, Taupe, Red, Grey and Periwinkle.
There are some new metallic colours too
Mother of Pearl, Blue, Magenta and Yellow.
There were a few other new ones but they didn't arrive (red, turquoise and violet).
We also didn't get any Hematite, Silver or Antique Gold as it wasn't available so we will be adjusting the bundle to reflect this.
Translucents
We received most of the colours except for Trans Violet and Gold Glitter.
We will adjust the bundle to reflect this.
We know you love purchasing the bundles of colours.
We get it, it saves time and a bit of $$ too so we will be offering the bundles in each of the series; No 1, Metallic and Translucent.
Please read the listing for each bundle on the website so you know what colours are included 🙂
Please note, we are still waiting for one box to arrive, it decided to ride around with the courier for a few extra days 🙁
Until it arrives, we won't be offering the No1 Blue (200) or English rose.
PLEASE READ:
We know so many of you want the the Cernit Translucent Trans 005.
We are asking you to please share by limiting quantities of this one colour.
The limit is 6 of the small 56g size or 2 of the 250 g size. 
If you order excess of the Trans 005, it will be refunded.
Thank you for understanding. Don't worry, we'll be ordering more 🙂
We have the Soft Mix, sets of 2 blades and the glossy varnish too.
Find them all here.
And, drum roll please………..
For you granite lovers out there, we will have the Nature series too.
Savannah, Granite and Basalt!
Sold as a set here.
More Great News…………..
Helen Breil's 3 new silk screens have arrived!
We're selling them here as a set of 3 for only $36