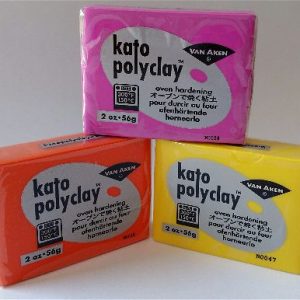 Quick View
Kato Polymer Clay- 2 oz packages 17 Colours + Neon Pink Kato Polyclay is the strongest polymer clay on the market, and each color shares the same durability. Most Kato Polyclay colors remain unchanged from raw to cured state. Certain colors deepen very slightly when cured.
SAVE over 10% when you buy 17 colours in the Master Sampler pack
(doesn't include Neon Pink) Kato Polyclay is divided into Spectral, Neutral and Metallic colours and is available in 2oz bars and professional size 12.5 oz bars. Use this colour chart 
Kato Poly Clay Color Chart
Please choose your preferred size in the drop down menu. Neon Pink was a new color for 2015. Available in 2oz only.
Also Available in 12.5oz Pack