Cernit Translucent Polymer Clay  56 g Amazingly translucent. Give it a try! Maybe we'll want the entire line of translucents! Ana Belchi has been kind enough to let us use photos of her work. See below for workshop and tutorial info offered by Ana.
Base Metal-Clip-on earrings with grid-like panel to assist with embellishments. Pack of 24 Use grid to help secure polymer clay or use the holes to secure rings or drops. These Clip-on earrings are the ones used by Helen Breil for creating her "Neck Clip" Jewelry. See Helen's examples in the gallery to the left.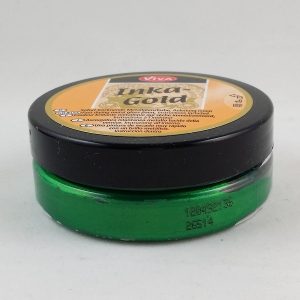 Quick View
Viva Decor Inka Gold is a revolutionary new product that produces an amazing metallic finish to wood, cardboard, paper, ceramic, canvas, polymer clay and plaster without any toxic chemicals. With beeswax as one of the main ingredients, Inka Gold is water based, safe and easy to use in all crafting and home decor projects. Just rub it on and polish. One jar can cover up to 80 square feet.