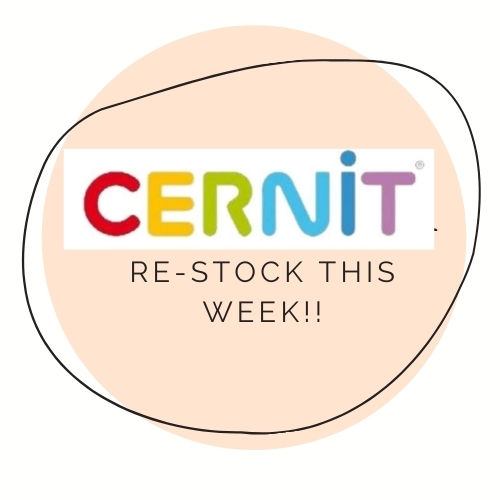 Our HUGE re-stock of Cernit polymer clay happens this week.
It's in transit! OMG
Because of the many hiccups that couriers are experiencing these days, we are cautious about listing it on the website until it is in our hands.
It will be this week some time.
Please watch for the announcement on Instagram and Facebook and the newsletter too.
If you subscribe to our newsletter you will already know that we will be receiving the Nature series and more colours in the No 1 series.
We will be receiving some Premo and Souffle late this week or early next. 
Premo and Souffle colours will be limited, and as of yet, we aren't 100% sure what colours they will be.
We have brought in more of the FIMO Professional 1LB blocks of white and black to help everyone through the dry spell. Fimo can be mixed with your other polymer clay brands.
I almost forgot, we will be receiving Helen Breil's 3 NEW silk screen designs too!
Again, they are in transit….so any day now.
I wish I could tell you exactly how many more sleeps it will be, but my crystal ball is in the shop.