CURRENTLY UNAVAILABLE Fimo Polymer Clay Effect-Granite 57 g (2 oz) 1pc  The Gray Granite from the Premo line has been exceptionally popular lately especially among earring makers. Since Polyform doesn't know when the Premo Granite can be restocked we thought we would bring the Fimo Granite in for you. Similar but different as you can see in the photo.  Fimo Granite has a touch of silver sparkle included.  It will help you make some wonderful designs.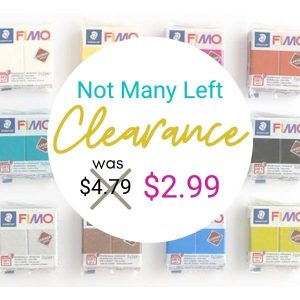 Quick View
FIMO Polymer Clay Leather Effect OPEN STOCK - 57g (2 oz) We only have a few left so we've reduced the price.  Get it now before it's too late
Choose from 12 colours: Saffron Yellow, Olive, Berry, Lagoon, Ochre, Indigo, Dove Grey, Watermelon, Nut, Ivory, Rust and Black.
Think of the gorgeous jewelry, journal covers or home dec projects you could create with a leather look.
Mix with other brands as needed or desired.  See below for more information.