helen breil texture tutorial
Shades of Clay is Your Source for helen breil texture tutorial and more...
Showing the single result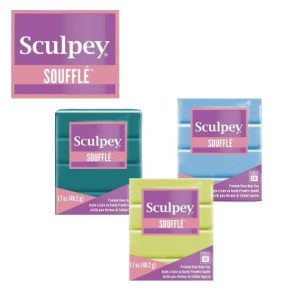 Quick View
Sculpey® Souffle Polymer Clay  3 New Colours for us in Canada! French Pink, Wild Orchid and Fiji
Sculpey® Souffle Polymer Clay is an innovative lightweight, strong clay with a suede-like finish + the ability to hold detail makes this an absolute favourite clay of jewelry makers!
Large 7 oz blocks of Igloo (white) and Poppy Seed (black)  are available in the drop-down menu along with the 1.7oz colours.
Showing the single result