Cosmic Shimmer Gilding Polish 50ml Water based and fast drying with a beautiful  metallic sheen. Made in the UK.
Creative Expressions-Cosmic Shimmer Gilding Wax is a coloured wax medium that allows a metallic sheen to be added to baked polymer clay, card, lace, chipboard,  and other craft surfaces. Gilding Wax can be used through masks to create backgrounds, as well as for highlighting embossed patterns, textures, die cuts and embellishments. Made in the UK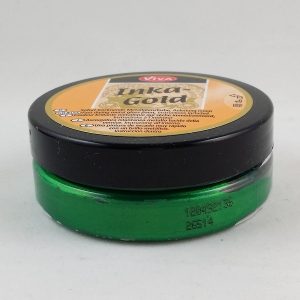 Quick View
Viva Decor Inka Gold is a revolutionary new product that produces an amazing metallic finish to wood, cardboard, paper, ceramic, canvas, polymer clay and plaster without any toxic chemicals. With beeswax as one of the main ingredients, Inka Gold is water based, safe and easy to use in all crafting and home decor projects. Just rub it on and polish. One jar can cover up to 80 square feet.