premo
Shades of Clay is Your Source for premo and more...
Showing 13–13 of 13 results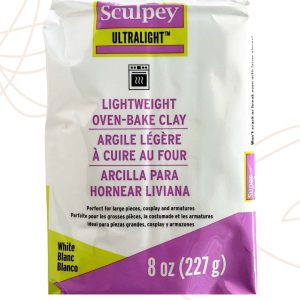 Quick View
Super Sculpey Ultralight Polymer Clay- 8oz (227g)
Polyform's  lightest weight clay available! Versatile, super soft clay perfect to use for all your clay crafting creations from jewelry, home décor, mixed media and cos play creations!  Twice the volume of a Premo Sculpey 8oz bar with half the weight!!
Try mixing a bit in with your usual clay to obtain a lighter weight result.  Great for earrings and other jewelry pieces.
Makes the perfect armature for sculptures! It is smoother and easier to work with than aluminum foil!
Excellent filler for larger beads
Perfect for making Keepsake handprint and paw print ornaments
Lightweight which makes it perfect for cosplay creations
Stays soft until baked – Does not air dry. Remains soft and flexible until it is baked in your home oven.
Extra clay can be stored and reused - won't dry out!
Once baked, it can be sanded, drilled, buffed and painted with acrylic paints
Safe and non-toxic!
Showing 13–13 of 13 results