shiny
Shades of Clay is Your Source for shiny and more...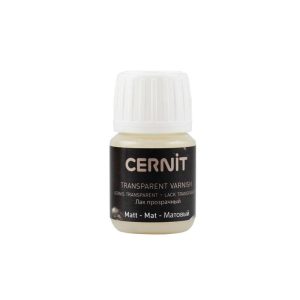 Quick View
Cernit Varnish-Glossy Finish Small 30 ml
It is completely transparent after drying and very resistant to scratches. The varnish is also water resistant. 
The gloss varnish has the advantage of adding a clear, gloss appearance of your Cernit number one while protecting your creation. It will protect the surface from damage. For your Cernit polymer clay creations, use the appropriate varnish from the same brand! This water-based varnish must go through the firing to be able to preserve your jewelry, figurines or various creations from knocks and scratches.
Unlike some of its competitors, Cernit varnish has an impeccable finish and does not bubble! For more info see below.
Available in a large 250 ml here.