Just getting started with Alcohol Inks?  These multipacks and bundles  are perfect.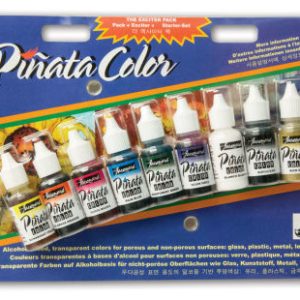 Quick View
Pinata Alcohol Ink The Pinata Color Exciter Pack is the ideal introduction to these wonderful transparent alcohol inks. Save over $8.00 if you purchased these colors separately! Pinata Colors are beautiful, color-saturated, acid-free, transparent inks. They are alcohol based making them indelible and moisture resistant when dry. Highly versatile, transparent, alcohol-based Piñata Inks are great for: glass, leather, wood, paper, plastic, metal, metal foil and vinyl. Please note: The colours in this exciter pack have recently changed to 9 of the favourite colors. This package contains 9 X 0.5 ounce bottles of Pinata Color: Sunbright Yellow, Calabaza Orange, Blanco Blanco, Passion Purple, Baja Blue, Mantilla Black, Senorita Magenta, Rainforest Green and Rich Gold.
Alcohol Ink Pearls by Tim Holtz . SET of all 12 Colours Villainous, Tranquil, Enchanted, Intrigue, Celestial, Splendor, Sublime, Envy, Alchemy, Deception, Smolder, Mineral. Buy all 12 colours together (you now you want them) and save!