What is a CaBezel? Think Cabochon and think Bezel. Put the two together and you have a tool to help you create perfect and consistent bezels and cabochons every time. No more running to your jewelry supply store for pre-made metal bezels that force you to conform to their ideals. No more mass produced shapes that everyone else uses.

Showing 13–16 of 16 results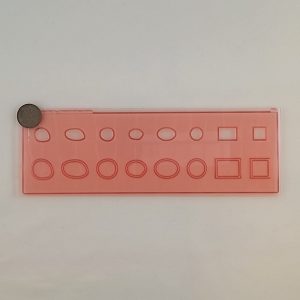 Quick View
The Mini CaBezel Mold Set includes eight small shapes that match those in both the Geometric and Organic CaBezel molds. This Mini CaBezel mold is the ideal companion to the Geometric and Organic sets to create earrings, bracelets, rings. These molds are made of photo polymer and are compatible with polymer clay and metal clay too. You CAN'T use resin in the molds but you could make yourself a bezel from polymer first and then use a product like silicone molding putty to make a copy of your polymer clay bezel to pour resin into. The possibilities are endless!
Showing 13–16 of 16 results