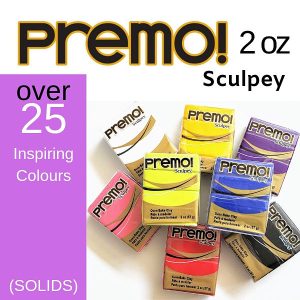 Quick View
(April 25) WHITE is delayed at manufacturer.  We are offering slices from 1 pound blocks for anyone needing less than the 8oz White offered here. We will weigh and wrap the slices for you (approximate weight will be 2oz).
Premo Sculpey Polymer Clay 2oz  - Over 25 Solid Colours to choose from
Premo Sculpey® is an artist's dream come true! After conditioning, this clay is soft enough to blend easily but firm enough to hold fine detail and for specialized techniques. It's perfect for caning, mokume gane and mica shift. Because Premo retains flexibility, the finished product remains very strong and durable.