Sculpey Souffle  Polymer Clay
Souffle
Shades of Clay is Your Source for Souffle and more...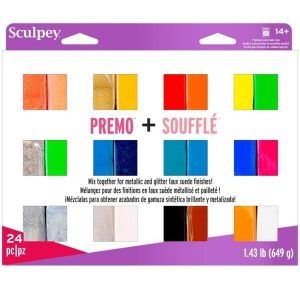 Quick View
Sculpey Premo and Souffle Multi Pack - 24 Colours X 1oz each
This multi-pack combines two of the most popular clay brands together - Premo™ metallics and glitters and a versatile range of colors from Soufflé! Mix these two brands of clay together to create beautiful jewelry, home décor and mixed media projects!
Includes 12 X 1 oz pieces: Sculpey Premo™ Rose Gold Glitter, Copper, Yellow Gold Glitter, 18K Gold, Gray Granite, Bright Green Pearl, Peacock Pearl, Galaxy Glitter, White Gold Glitter, Silver, Pearl, Frost White Glitter
Includes 12  X .9 oz pieces: Sculpey Soufflé™ Cherry Pie, Pumpkin, Canary, Shamrock, Sea Glass, Bluestone, Cornflower, Turnip, Poppy Seed, Cowboy, Latte, Igloo
More info below.