Stencils for all of your multi-media projects.
Polymer clay, jewelry, decor, journaling and more! Durable.  Use with paints, inks, dyes pastes and pastels.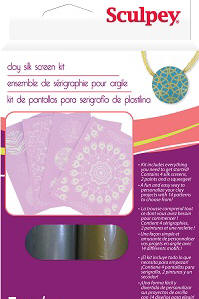 Quick View
A fun and easy way to personalize projects This kit includes everything clayers need to get started! Comes with 14 patterns to choose from, a squeegee, gold and silver paint! The silkscreen designs include – 2 full size designs and 2 sheets of 6 1.75″ medallions that are perfect for making pendants!