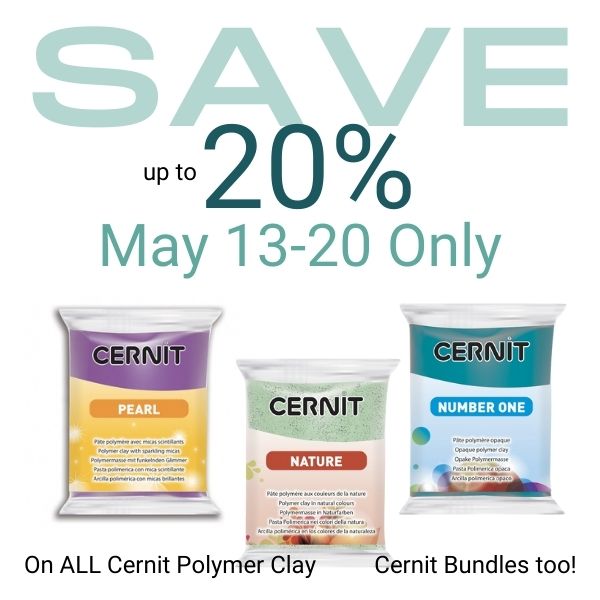 All About Cernit Polymer Clay

I thought we'd put the spotlight on a brand of clay that, in my opinion, doesn't get the  attention it deserves!
While Premo Sculpey and Premo Souffle are the most accessible, Cernit is just as great for all your clay needs.
Cernit is manufactured in Belgium so it's popular among many European artists. It's soft, yet durable, and easy to work with.

Here are some other quick reasons why you should consider trying this brand:
-It's capable of creating flexible, thin and intricate pieces
-There is no waste in the manufacturing of this clay and they are super environmentally friendly
-It's regarded  as the best translucent clay, mimicking gemstones really well
-It's non-toxic, phthalate-free, and not tested on animals 
-It can be mixed with our other brands of polymer clay
-All the beautiful colours it comes in are unmatched by other brands
-There are so many finishes in the Cernit range making this a very versatile clay
AND it's on sale!!
While we are waiting for our next Cernit shipment to arrive, I thought I would offer a sale on ALL of our Cernit polymer clay currently in stock.  Even the Cernit Bundles have been discounted further!
We stock most of the Cernit polymer clay ranges
Pearl (this is the newest)
Nature (think granite)
Opaline (we currently only have the 3 primaries but we're bringing in all the colors soon!)
Cernit BUNDLES  Save time and money when you choose the bundles 
250g and 500g sizes available for Trans 005, White 027 and Black 200 only

Get in on the Cernit SALE before it's too late!  This doesn't happen often!

Applies to in-stock items only