More Info
Additional information
| | |
| --- | --- |
| Weight | .035 kg |
| Dimensions | 7 × 5 × 2 cm |
| Colour | 1" X 48pk, 12 colours, 18kt Gold, Accents Copper, All Colours, Aluminum, Amethyst, Antique Bronze, Antique Copper, Antique Gold, Antique Silver, Apple Green, Apricot, Aqua, Aqua, Aquamarine, Aubergine, Avocado, Axtec Gold, Azure, Baja Blue, Beige, Black, Black matte, Black Patina, Blanco, Blue, Blue Pearl, Bluestone, Blush, Bordeaux, Brass, Brick, Bright Gold, Bright Green, Bright Orange, Bright Yellow, Brights, Brilliant Gold, Brilliant Red, Bronze, Brown, Brown Gold, Burgundy, Burnt Orange, Burnt Umber, Burro Brown, Cadmium Red, Cadmium Yellow, Calabaza Orange, Canary, Carnelian, Celtic Bronze, Cerulean Blue, Chartreuse, Chartreuse, Cherry Pie, Chestnut, Chili Pepper Red, Chocolate, Chrome, Citrine, Claret, Clear, Clear Frost, Cobalt Blue, Concrete, Copper, Cowboy, Cranberry, Crimson, Damson, Dark Brown, Dark Green, Dark Violet, Darks, Deep Sky Blue, Denim, Duo Red Blue, Duo Violet Brass, Ecru, Emerald, Emerald Green, Fire Opal, Flamingo Pink, Fuchsia, Fushia, Galaxy Gold, Garnet, Gel, German Silver, Glass, Gold, Gold Plated, Gold Tone, Gold Yellow, Golden Yellow, Granny Smith Green, Grape, Green, Green Pearl, Green with Gold Metallic, Green Yellow, Halo Blue Gold, Halo Pink Gold, Halo Violet Gold, Havana Brown, Hematite, Hematite, Hot Fuchia, Ice Blue, Igloo, Inca Gold, Indian Red Hue, Indigo, Interference Blue, Interference Gold, Interference Green, Interference Red, Interference Violet, Iris Blue, Ivory, Jade, Key Lime, Lagoon, Latte, Lava Red, light gold metallic tone and silver, Light Green, Lights, Lime Green, Lite Blue, Macro Pearl, Magenta, Magenta Pearl, Mai Tai, Mantilla Black, Mars Black, Metallic Bronze, Metallic Copper, Metallic Gold, Metallic Olive Green, Metallic Russet, Metallic Rust, Metallic Silver, Micro Pearl, Midnight Blue, Mink, Mint Green, Misty Lavender, Multi Color, Multi Colour, Napthol Red, Navy Blue, Nickel, Nickle free, Nickle plated, Non Tarnish Brass, Ochre, Old Brass, Old Gold, Olive, Opal, Orange, Oxblood, Passion Purple, Pastels, Patina, Peacock Pearl, Pearl, Pearl White, Pearlescent Emerald, Pearlescent Magenta, Pearlescent Turquoise, Pearlescent Violet, Pearlescent White, Periwinkle, Permanent Green Medium, Pesto, Pewter, Pewter, Pink Gold, Pinotage, Pistachio, Platinum, Platunum Planet, Poppy Seed, Pumpkin, Pumpkin Orange, Purple, Purple Pearl, Radiant Orchid, Rainforest Green, Raspberry, Red, Red Russet, Reflex Violet, Rich Gold, Rish Gold, Robin's Egg, Rose Quartz, Royalty, Ruby, Russet, Rust, Salmon, Salmon Pink, Sandalwood, Sandcastle, Sangria, Sante Fe Red, Sapphire, Sapphire Blue, Scarlet, Sea Glass, Senorita Magenta, Shadow Grey, Shimmer Violet, Silver, Silver Plated, Silver plated base metal, Silver Tone, Siver, Sky, Sky Blue, So 80's, Solar Gold, Spanish Olive, Sparkle Gold, Spring Green, Steele Blue, Sun Yellow, Sunbright Yellow, Sunset Gold, Super Copper, Super Russet, Surgical Steel, Tangerine, Tarnished Bronze, Teal, Titanium White, Torched Copper, Translucent, Translucent Blue, Translucent Red, Translucent White, Translucent Yellow, True Blue, True Gold, True Red, Tulip Red, Tuquoise, Turnip, Turquoise, Ultra Blue, Ultramarine Blue, Verdigris, Violet, Wasabi, Wheat, While, White, White Satin Pearl, Yellow, Yellow Orche, Yellow, Red, Blue, Green, Zinc Yellow |
Returns & Delivery
We are proud to represent vendors of quality tools and supplies. Occasionally there may be a defective item and should this happen we will gladly issue a replacement or refund. Other items may also be returned if they are unused and in their original packaging and may be subject to a restocking charge. Please contact us with any questions and before returning merchandise.
Related Products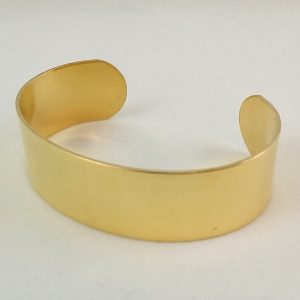 Quick View
Embellish or use as a form, this brass bracelet cuff is 3/4" wide and has a flat surface. The circumference of the oval formed by the bracelet is approximately 7.5"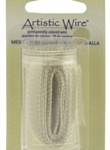 Quick View
Artistic Wire Mesh is a permanently colored copper wire woven into a mesh tube and flattened. Its hollow tubular design can be stretched, condensed, strung on, filled, tied, glued and more. Fill the mesh wire with beads, shaped wire or stretch the mesh to create 3D shapes. To finish off wire, crimp or try wrapping it with wire. 1mm x 10mm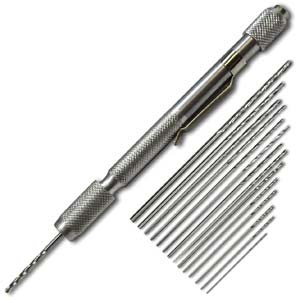 Quick View
This item ill return late March Small Hand Drill with Several Drill Bits The perfect tool for creating and resizing holes. Hand drill polymer clay, thin metals, plastics, ceramics, wood and much more. Includes pin vise with magnetic cap and pocket clip and 12 drill bits (even sizes, 52-74). Makes hole sizes .023-.064 inches. All drill bits are stored inside the handle.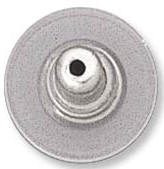 Quick View
Earring Stabilizer Clutch (clear backing) Package of 100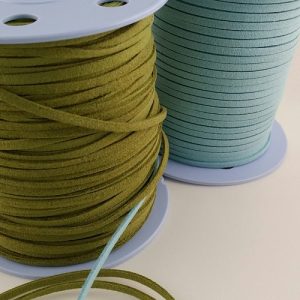 Quick View
Fantastic alternative to real suede cord. Micro Fibre is more flexible and incredibly soft, yet strong and durable making it ideal for creating necklaces, bracelets or anklets. The specially treated synthetic material does not have a noticeable odor like dyed leather; it will not crack or fray over time and it's washable. Priced per meter.
Quick View
Black Self-locking Rubber Cords- 24" in length. 2mm Thick Save! Now in packages of 20 . That's only $.75 each. Simply squeeze and insert the plastic tip to lock the cord together.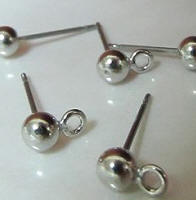 Quick View
Sterling Silver Plated-4mm Ball Ear Post with Loop Backs sold separately. Package of 20