Description
Description
Benefits of FIMO leather-effect polymer clay at a glance
Benefits before hardening
You can shape or work FIMO leather-effect in any way you like, e.g. by embossing patterns or lettering.
You can achieve the thickness you want for your FIMO sheet by rolling it out as appropriate.
Leather effects vary: the more firmly you compress the modelling clay (e.g. by rolling it out), the smoother the leather effect you will create. If you pull the clay apart gently by hand after rolling it out, the leather effect will have more of a "raw" look.
FIMO leather-effect (and FIMO in general) is what is known as self adhesive, i.e. when two pieces of FIMO are placed on top of each other, they will stick together. Pressing and smoothing the clay will strengthen the bonding. So you can lay two colours on top of each other, for instance, creating different colours on the front and back. FIMO will also stick to glasses and tins, making them easy to cover. (Individual FIMO decorations (e.g. little hearts, etc.) applied to items after hardening will not stick permanently)
Benefits after hardening
The FIMO leather-effect look is visible on both sides after hardening. This is particularly useful if you are creating earrings, handbag charms, etc.
FIMO leather-effect is especially flexible and bendable after hardening. When FIMO leather-effect is rolled out thin, it can be punched, sewn (by hand or with a sewing machine) and cut into shapes with scissors.
What should I be aware of when working with unhardened FIMO leather-effect?
FIMO leather-effect can be worked in a similar way to FIMO soft, but it shrinks slightly once hardened. So if you need one of your creations to be a specific size, you should initially work with a slightly larger size. You can then cut it to your desired size (e.g. with scissors) after hardening.
How can I intensify the leather look effect?
If you pull the clay apart evenly in different directions after rolling out, the leather effect will become more obvious. The further you pull the clay apart, the more obvious the leather effect will be.
Can colours be combined with each other?
Colours can be combined with each other. Twisting them together gently will create a beautiful marbling effects, for instance. It's also possible to create patterns and colour blends.
Kneading your chosen colours together thoroughly will create a new solid colour.
How do I harden FIMO leather‑effect?
Preheat the oven to 130°C / 266 °F (upper and lower heat). Once it is up to temperature, place your pieces in the oven and harden them for 30 minutes.
Since every oven is different, we recommend you use an oven thermometer to make sure nothing burns and your pieces don't take on any undesirable colour. It's important to control the temperature during hardening and ensure that you do not exceed the recommended temperature or baking time.
(FIMO should not be hardened in the microwave.)
Can FIMO leather-effect be hardened with convection heat, or on several baking sheets at once?
To achieve optimal hardening of FIMO leather-effect, you should use only one baking sheet in the oven at a time. Pieces should be hardened for 30 minutes at 130°C / 266 °F on upper and lower heat.
Can FIMO pieces that have already been hardened be put back into the oven?
We recommend that FIMO leather‑effect is hardened once only under the conditions set out above.
More Info
Additional information
| | |
| --- | --- |
| Weight | .350 kg |
| Dimensions | 19 × 12 × 2 cm |
Reviews (0)
Only logged in customers who have purchased this product may leave a review.
Returns & Delivery
We are proud to represent vendors of quality tools and supplies. Occasionally there may be a defective item and should this happen we will gladly issue a replacement or refund. Other items may also be returned if they are unused and in their original packaging and may be subject to a restocking charge. Please contact us with any questions and before returning merchandise.
Related Products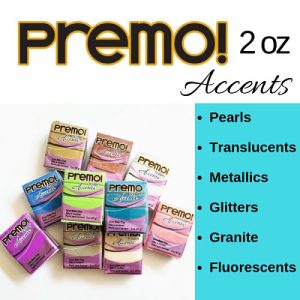 Quick View
Premo Sculpey® Accents 2oz The same great polymer clay as premo Sculpey® but the enhanced clays in the premo Sculpey® Accents line allows for making exciting and unique projects using an artist's palette. The complete line of premo Sculpey® Accents has 26 rich colors: 7 pearlized colors that are great for creating faux semi-precious stones. 6 metallics containing tiny mica particles to create a reflective effect. 2 translucents to lighten clays and provide a transparent effect. 1 granite containing elements that give the appearance of natural stones. 8 glitters for creating projects with a glittery, sparkly finish. 2 bright fluorescents to add a pop of color.
Quick View
Premo Sculpey® - Multipack - 12 pc X 1oz – Classic A perfect sampling of premo clay Great for creating jewelry and home décor pieces Artist color pallets for precise color mixing Pure pigments for densely saturated colors Holds fine details, maintains crisp lines, and does not bleed! Includes 12 - 1 oz bars: Purple, Cobalt Blue Hue, Green, Zinc Yellow Hue, Black, Silver, Rhino Gray, White, Burnt Umber, Cadmium Red Hue, Gold and Orange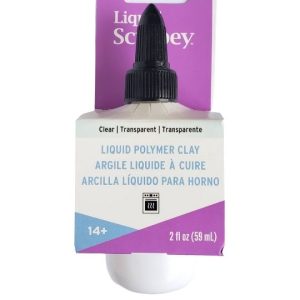 Quick View
Liquid Sculpey CLEAR The Clearest so far! New possibilities! Sculpey Liquid Clay allows you to make color transfers, custom glazes and color washes with this Bake-able Liquid Polymer Medium! Make transfers from printed images: magazines, photocopies, and colored pencil drawings. Add oil paints to make a bake-able painting and surface medium. Add dry pigments to create glazes and color washes. Use with polymer clay for a bake-able adhesive, grout for mosaics, creating faux enameling or as a translucent glazing and polishing medium. • Also perfect for use in bake-able molds • Available in 2 fl oz (59mL)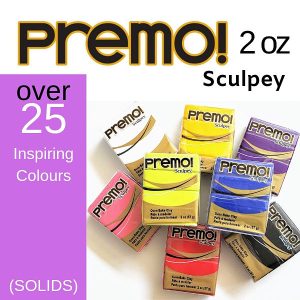 Quick View
(April 25) WHITE is delayed at manufacturer.  We are offering slices from 1 pound blocks for anyone needing less than the 8oz White offered here. We will weigh and wrap the slices for you (approximate weight will be 2oz).
Premo Sculpey Polymer Clay 2oz  - Over 25 Solid Colours to choose from
Premo Sculpey® is an artist's dream come true! After conditioning, this clay is soft enough to blend easily but firm enough to hold fine detail and for specialized techniques. It's perfect for caning, mokume gane and mica shift. Because Premo retains flexibility, the finished product remains very strong and durable.