Showing 1–12 of 26 results
Adirondack Alcohol Inks by Ranger/Tim Holtz
All colours are available Individually here.
 We are no longer carrying the sets.
Flamingo, Patina, Amethyst
Acid-free, fast drying transparent coordinating Earthtones, Lights and Brights dye inks specially formulated to create a colorful, polished stone effect. Use on glossy paper, dominoes, metal, shrink plastic, glass, and other slick surfaces. Available in 18 exciting 3-color palettes.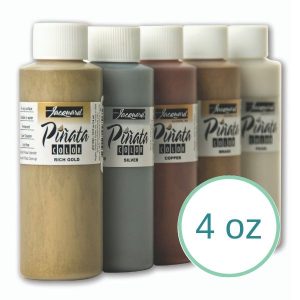 Quick View
Pinata Alcohol Ink by Jacquard 4oz size. Huge savings when you purchase the large 4oz size of Pinata Alcohol Inks. Buying the equivalent in the small .5 oz bottles would cost over $34.00! Newest Colours  Brass, Copper and Pearl are only available in 4oz  Claro Extender and Clean Up Solution  available in the 4oz size now too. Click the description tab at the bottom of the page for more in-depth info.
Showing 1–12 of 26 results