What is a CaBezel? Think Cabochon and think Bezel. Put the two together and you have a tool to help you create perfect and consistent bezels and cabochons every time. No more running to your jewelry supply store for pre-made metal bezels that force you to conform to their ideals. No more mass produced shapes that everyone else uses.
Original CaBezel Molds
Shades of Clay is Your Source for Original CaBezel Molds and more...
Compatible with polymer clay. paper clay and metal clay too.
Easy Instructions for using the CaBezels are Cabezel How to Basic Instructions .
The possibilities are endless!
Find inspiration in our gallery HERE.
Showing 1–12 of 16 results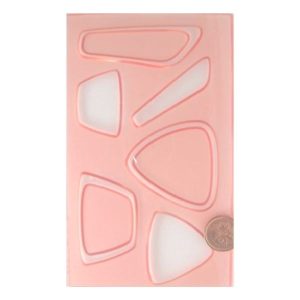 Quick View
 3 More Fab Focals CaBezel Jewelry Mold 
There can never be enough fabulous focal bead shapes and based on the popularity of the first 3 Fab Focals it seems that you agree.
Here are three more great shapes 3 Fab Focals #2.  The surface of the cabochon is big enough to use silk screens.
Showing 1–12 of 16 results