Premo Sculpey Polymer Clay Accents 2 oz
Shades of Clay is Your Source for Premo Sculpey Polymer Clay Accents 2 oz and more...
Showing the single result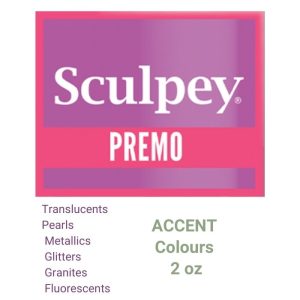 Quick View
Premo Sculpey® Accents 2oz  NEW Blackberry Pearl
The same great polymer clay as premo Sculpey® but the enhanced clays in the premo Sculpey® Accents line allows for making exciting and unique projects using an artist's palette. The complete line of premo Sculpey® Accents has 26 rich colors:
8 pearlized colors that are great for creating faux semi-precious stones.
6 metallics containing tiny mica particles to create a reflective effect.
2 translucents to lighten clays and provide a transparent effect.
2 granite containing elements that give the appearance of natural stones.
8 glitters for creating projects with a glittery, sparkly finish.
2 bright fluorescents to add a pop of color.
Showing the single result