Reviews (0)
Description
Description
Flexible Silicone Bead Molds by Maggie Murdoch
Ceramic artist Maggie Murdoch, has come out of retirement to bring you these fabulous, voluptuous silicone bead molds.
Not for your typical flat, humdrum beads. Instead, you'll create beads that are oozing with character and OOAK beauty.
Maggie's expert sculpting skills really shine through in this limited edition Botanical Pod Series.  There are 3 molds to choose from or grab all 3 to create limitless groupings or focal beads.
Use the mold once to create beads that are flat-backed or join 2 sides together with a channel down the center for threading a cord through.
The beads can be made solid or hollow.
Use most types of clay as these molds are heat resistant up to 450F (232C).
If working in a warm environment (or if you have overly warm hands) chill the polymer clay inside the mold to easily remove without misshaping whenever baking the clay in the mold isn't desired.
These molds can also be used with resin.
These molds aren't for making average beads. They allow you to be original and show your personal style. No cookie cutters here!
If using scrap clay, embellish the surface of every bead easily by using foils, Panpastels, mica powders etc.
These flexible, silicone bead molds are hand poured by the artist herself and are therefore a limited edition series.  The "positive" molds are for examples of the shapes of  beads you can create.  The molds with the deep negative spaces are what you will receive to create your own polymer clay beads.
Get yours now.
Botanical Pod #1 and #2 are 4.5″ across X 1″ high.
Botanical Pod #3 is 5.75″ across X .75″ high
More Info
Returns & Delivery
We are proud to represent vendors of quality tools and supplies. Occasionally there may be a defective item and should this happen we will gladly issue a replacement or refund. Other items may also be returned if they are unused and in their original packaging and may be subject to a restocking charge. Please contact us with any questions and before returning merchandise.
Our offers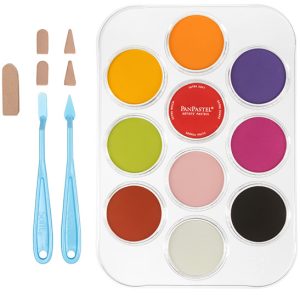 Quick View
PanPastel Kit-Susan's Garden Flower Colouring #1 (10 Colors)
Susan Tierney is known worldwide for her beautiful handmade paper flowers. Using her unique techniques to create flowers from paper she then colors them with PanPastel for realistic colorful blooms. See below for colours and more info.


Related Products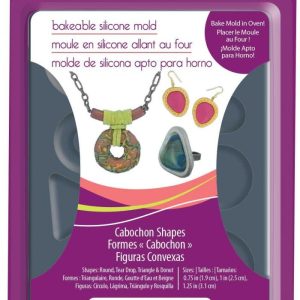 Quick View
Sculpey® Silicone Bakeable Mold - Cabochon
The cabochon mold allows you to quickly and easily make beautiful and unique jewelry pieces. This one mold has 3 different sizes perfect for making all types of jewelry from earrings to bracelets!
Add dimension to your jewelry making!
Works perfectly with the Sculpey® Silicone Bakeable Mold - Bezel. Find it here.
Silicone mold bakes in the oven!
Works great with both clay and Liquid Sculpey® products .
Quickly and easily make detailed jewelry, gifts and items for home décor.
Simply mold, flex and release!
Can be used with oven-bake, air dry and non-drying clays as well as Plaster of Paris, craft soap and candle wax.
Mold includes the following shapes: Triangle, Round, Donut and Tear Drop in 3 popular sizes, .75", 1" and 1.25"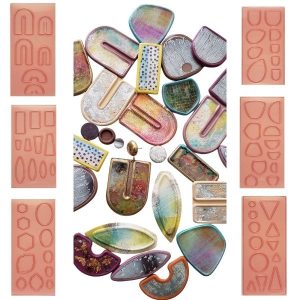 Quick View
NEW! Introducing a new line of CaBEZEL Jewelry Molds - Just Bezels
There are 6 Molds to choose from and each mold has several shapes and comes with the  template to cut out the matching insert.
No cabochon mold this time, it's just the bezel. I'm going to show you how to insert your favourite clay veneers of even beautiful papers!
Grab this inspiring pdf guide JUST Bezels
See below for more info and learn about the discount when you purchase a set 3 or 6 in this CaBEZEL series.
For a limited time only -I'm including 1 full colour, printed page of an original pattern to use inside your baked bezels.  This bonus ends June 30 2022
BONUS of FREE unlimited downloads: Purchase a set of 3 or 6 and you'll also get the link to download and print as many copies of the original design(s) as you want! Forever!
Bonus   Recieve a FREE Necklace Kit when you purchase the SET of all 6 New CaBEZEL Jewelry Molds!
Read more JUST Bezels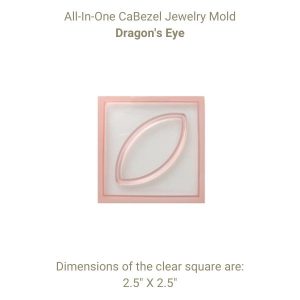 Quick View
Dragon's Eye All In One CaBezel Mold
This shape has many possibilities as it can be used both horizontally and vertically. Think polished and elegant or magical, mythological and scaly.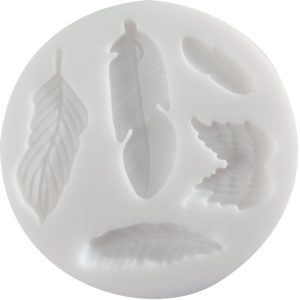 Quick View
Cernit Silicone Mold - Feathers
Can be used with different materials: Polymer clay Cernit, Darwi Classic, Darwi Terracotta, Darwi Beton, Darwi Roc, Darwi Kids, Darwi Extra Light.
The silicone moulds are very flexible, allowing easy release of your creations.
Can be baked in the oven with the polymer clay, so you do not deform your creation.
For self-hardening clays: wait until fully dry before removing from the mould.
Non-food silicone.
Diameter: 7cm.