The Revolutionary New Way to Use Color
Apply Pastel Color Like Paint
For Painting, Drawing & Mixed Media. Beautiful when used with polymer clay.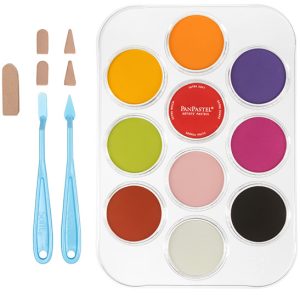 Quick View
PanPastel Kit, Susan's Garden Flower Colouring #1 (10 Colors)
Susan Tierney is known worldwide for her beautiful handmade paper flowers. Using her unique techniques to create flowers from paper she then colors them with PanPastel for realistic colorful blooms.
Set Contains:
1 x Orange 280.5
1 x Diarylide Yellow 250.5
1 x Violet 470.5
1 x Permanent Red 340.5
1 x Bright Yellow Green 680.5
1 x Permanent Red Tint 340.8
1 x Magenta 430.5
1 x Red Iron Oxide 380.5
1 x Titanium White 100.5
1 x Black 800.5
1 x Palette Tray & Cover
2 x Sofft Painting Knife (No.1 & No.4)
4 x Sofft Knife Covers (No.1 & No.4)
1 x Sofft Sponge Bar