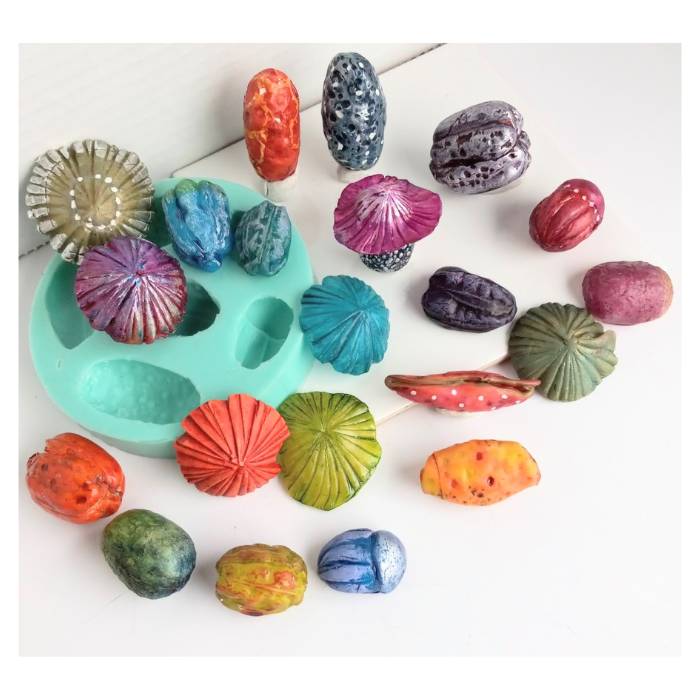 New flexible, silicone bead molds
Canadian ceramic artist Maggie Murdoch has just created 3 brand new bead molds to share with us.
Maggie's Back!
Maggie Murdoch, a remarkable clay artist and jewelry designer, is offering silicone
molds of her distinctive, Nature-inspired beads, and there's nothing else quite like
them on the market. Where other molds are flat and mass-produced, Maggie's are
three-dimensional, finely detailed, each one hand-made and, by definition, limited
editions. Maggie, one of Prince Edward County's most innovative and best-known
artists, retired in 2020. She closed the Wellington Pottery, after more than 20 years,
and passed on most of her tools and equipment.
She tried to relax, but a truly creative soul never really rests.
After a lifetime of design in fabrics and fashion and an astonishing variety of ceramic
art, Maggie found it hard to slow down and impossible to resist the pull of clay.
So she's back, focused on jewelry. Big, beautiful beads inspired by the natural
world and by her famed fantasy porcelain pieces.
Her bold, chunky necklaces were bestsellers at Wellington Pottery, the One-of-a-
Kind Show and other fine craft shows, but now she has chosen to share her bead
designs, rather than continue making jewelry.
In her new studio, she makes high quality, deep and detailed silicone molds from the
originals of her sublime, hand carved beads, and is sending them out into the world,
to live on in the work of others and make more jewelry dreams come true.
Get them here.
 Need all 3 sets in this Botanical Pod Series? Save 15% on the set of 3.