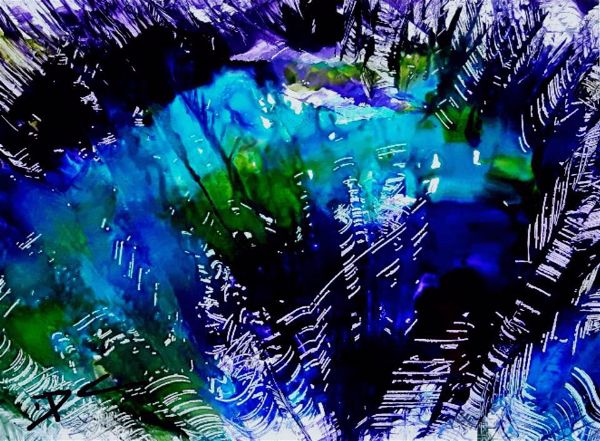 I can often be heard saying that "I love my job". One of the reasons for this is because I get to speak to many of our Shades of Clay customers.
Whether I'm answering questions about the products we carry or listening to the stories they are eager to share about their creative journeys, speaking to our customers can often make my day.
Deborah called last week with a question about  Alcohol inks and by the end of our conversation I had learned so much about her and her creative process.
I asked if she would be willing to send us some photos of her work along with some of the details.
This is what she wrote to share:
My business, Demarca Designs, began back in the 90's when I designed, marketed and sold my own jewelry line. It has evolved into creating and selling expressions of my heart through painting.
I have been painting for over 44 years and Love is still teaching me to paint what is in my heart, not to paint what I THINK people want.
More often than not, I have no idea what I will be painting when I start. But I do know my heart is saying something to me. Finding out what is being said is a treasure hunt for me! When I do understand a sense of what my unconscious is revealing to me, that insight can give me hope, new perspective, and the desire to want change.
Here is an example of one.

WAR HORSES
As I painted this picture, I began to see what looked like a fury of horses racing from blood or fire and I thought immediately of a verse in the book of Revelation about the released horses and what the outcome of that would be. I sensed fear.
Later, as I am framing this picture, I recalled a scene from a dream I had of me releasing horses from a barn that was beginning to burn. I hesitated in the dream, as I was holding their reins, because I wondered if I they would ever come back home.
And I realized then …..LET THEM GO!!
If I hold on, I will lose them. If I let go, they know where home is.
Deb Cameron

I hope you enjoyed Deb's story as much as I did.
You can find her website here and her Facebook page here.
If you have something you'd like to share, please email us your edited story along with a few photos and we will do our best to share it.
Wendy