cool colours
Shades of Clay is Your Source for cool colours and more...
Showing the single result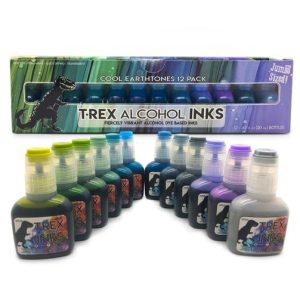 Quick View
COOL EARTH tones Alcohol Ink Set of 12 Jumbo Sized .67oz (20ml) Bottles

Earthy nuanced tones in a mega 12-pack with a Silver Metallic and reusable storage box.
PROFESSIONAL QUALITY: Ultra-premium grade Japanese dye-based inks carefully crafted to provide the highest quality artistic experience.
VIVID UNIQUE COLORS: 12 cool-toned earthy colors that are exclusive to T-Rex Inks
JUMBO-SIZED: 12 Jumbo 20ml Alcohol Ink Bottles provides 33-50% more ink per bottle
REUSABLE STORAGE BOX: Keep your inks organized and portable
QUICK-DRYING & INDELIBLE: Our Alcohol Ink sets are water-resistant, 100% acid-free, and Japanese dye-based for creating long-lasting depth, layering & stunning effects
ANTI-CLOGGING & LEAK-RESISTANT: Precision applicators & leak-resistant screw caps means more control with less spills
INCREDIBLY VERSATILE: Create brilliant color on most non-porous surfaces for many art and DIY projects as well as a colorant for epoxy resin
Our COOL EARTHtones Pack offers a nuanced collection of 12 colors spanning green, teal, blue, purple, gray, and Silver Metallic (our first-ever metallic). Good Art is all about nuances and an artist must have the right tools to achieve those which is why we made this series. Also, check out our WARM EARTHtones Pack for the rest of the color spectrum. Each 12-pack is sold separately.
The COOL EARTHtones pack colors are: Lemongrass, Kelp Forest, Olive Grove, Seaglass, Island Teal, Aegean Blue, Pacific Blue, Monsoon, Volcanic Ash, Purple Iris, Wisteria, and Starlight Silver Metallic.
Fiercely vibrant Japanese dye-based inks perfect for use on non-porous surfaces for use in painting, fabric dying, jewelry making, stamping, epoxy resin dye, and many more surfaces! The artistic possibilities are endless. 100% acid-free and indelible. Our inks clean up with alcohol, have rewetting properties, and can be thinned for transparency. Try it out on glossy paper, glass, stone, leather, ceramic, vinyl, plastic, foil, wood, fiberglass, vellum, epoxy resin, or even polymer clay.
Earthy Nuanced Tones Like You've Never Seen Before
See a description of the colours below
Showing the single result