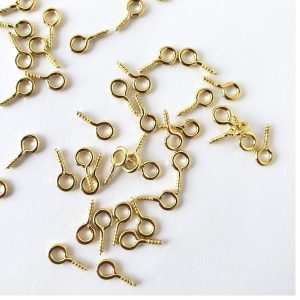 Quick View
Screw Eyes 
Gold - 1 cm in length with a 3mm eye opening 144 pcs
These are our smallest screw eyes yet.  We looked long and hard for a source for these. 
Use screw eyes with polymer clay as a means to hang or attach other findings and turn your creations into jewelry or wall hangings.
You can also screw into the ends of thick Buna cord and then attach jump rings or clasps etc.
You can alter the original colour of the screw eyes with alcohol inks or patinas etc. to change the look of the metal if desired.
Measured by weight so count may not always be exact.