save
Shades of Clay is Your Source for save and more...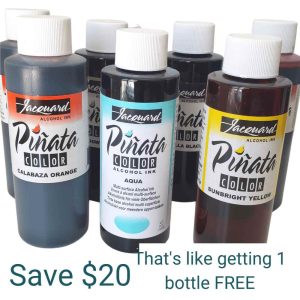 Quick View
Save $20
Set includes: 7 X 4 oz bottles of Pinata alcohol ink  PLUS free items valued at $14(see below)
1 X 4 oz Pinata Aqua
1 X 4 oz Pinata Sunbright Yellow
1 X 4 oz Pinata Sangria
1 X 4 oz Pinata Calabaza Orange
1 X 4 oz Pinata Chili Pepper
1 X 4 oz Pinata Shadow Grey
1 X 4 oz Pinata Mantilla Black
$14 Value Free items include:
1 X 1 oz bottle of Pinata Claro Extender
1 package of 14 Pipettes
1 package of Silver Foil Flakes
1 X 3  Reusable Palettes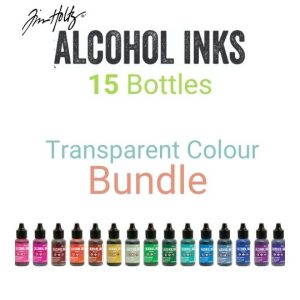 Quick View
Special Price - Tim Holtz by Ranger Ink- Alcohol Ink Bundle 
Savings Bundle- 15 (Newest) Alcohol Ink Colours 0.5 oz each
This is a great way to save on all of the 15 New .05 oz transparent alcohol ink colours from Tim Holtz at Ranger Ink
15 Colours- Vineyard, Sienna, Rosewood, Moss, Monsoon, Mojito, Fiesta, Monsoon, Glacier, Everglades, Ember, Dijon, Cobalt, Gumball, Boysenberry.
The 5 Metallic Alloys-Foundry, Gilded, Mined, Statue, Sterling are NOT included in this bundle. They are included in the bundle of 20 colours here.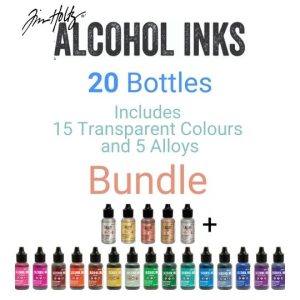 Quick View
Savings Bundle- The most recent 20 Alcohol Ink Colours from Tim Holtz  0.5 oz each
This is a great way to save on all of the 20 New .05 oz Alcohol Inks colours from Tim Holtz at Ranger Ink
5 Metallic Alloys-Foundry, Gilded, Mined, Statue, Sterling
+15 Colours- Vineyard, Sienna, Rosewood, Moss, Monsoon, Mojito, Fiesta, Moonstone, Glacier, Everglades, Ember, Dijon, Cobalt, Gumball, Boysenberry