Miscellaneous Jewelry Components
Shades of Clay is Your Source for Miscellaneous Jewelry Components and more...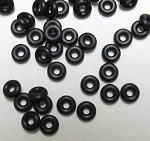 Quick View
O-rings to fit Buna and other Cording
These o-rings will fit the 2mm (up to 3mm cord)
O-rings can be used decoratively or functionally. As stoppers, dividers and as jump rings. Use them to create loops at the end of your buna cord. They will finish off the sides of polymer clay pendants nicely that have been drilled to accept cord.
We carry several sizes of O-rings here.
Various end caps are here.
We now carry O-rings in both a Thin and Thick version to fit the 8mm and 12.7mm  (1/2") Buna cords.