Only available at Shades of Clay!
Showing 1–12 of 34 results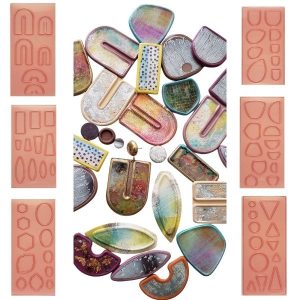 Quick View
NEW!

Introducing a new line of CaBEZEL Jewelry Molds - Just Bezels
There are
6 Molds to choose from and each mold has several shapes and comes with the  template to cut out the matching insert. No cabochon mold this time, it's just the
bezel
. I'm going to show you how to insert your favourite clay veneers of even beautiful papers!
Grab this inspiring pdf guide JUST Bezels
See below for more info and learn about the discount when you purchase a set 3 or 6 in this CaBEZEL series.
For a limited time only

-
I'm including 1 full colour, printed page of an original pattern to use inside your baked bezels.  This bonus ends June 30 2022
BONUS of FREE unlimited downloads:
Purchase a set of 3 or 6 and you'll also get the link to download and print as many copies of the original design(s) as you want! Forever!

Bonus  

Recieve a FREE Necklace Kit when you purchase the SET of all 6 New CaBEZEL Jewelry Molds! 

This bonus ends June 30 2022 or when the kits run out!
Read more JUST Bezels
Showing 1–12 of 34 results