Sculpey Molds-Polyform
Shades of Clay is Your Source for Sculpey Molds-Polyform and more...
Molds for polymer clay makers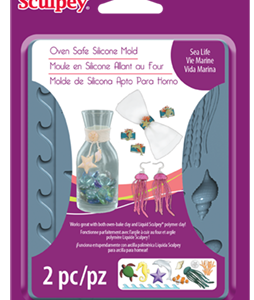 Quick View
Sculpey Tools - Silicone Mold - SEA LIFE
Sculpey® Silicone Bakeable Mold – Sea Life
This fun oven-bake mold contains ten unique shapes for maximum creativity in your projects! This mold was designed to work perfectly with our Liquid bakeable medium and comes with a squeegee to make an evenly filled mold easier than ever! Simply fill the mold cavities with the liquid bakeable medium, squeegee off excess and bake! If using oven-bake clay simply fill the mold with clay, trim off the excess and bake! These pieces are sized perfectly for all types of projects from jewelry, paper crafting, home décor and more!
Oven-safe high quality silicone
Mold size 3.75" H x 4.87" W
1.25" x 1" squeegee included for us with Liquid Sculpey
Shapes include: Jelly Fish, Dolphin, Sea Horse, Wave, Coral, Sand Dollar, Shell, Turtle, Clown Fish, Star Fish
Easy to use, very flexible and non-toxic
Easy to clean with soap and water
Can be used up to 450 °F
Oven-safe high quality silicone
Mold size 3.75" H x 4.87" W
Easy to use, very flexible and non-toxic
Easy to clean with soap and water
Can be used up to 450 °F