Marcato Atlas 180 Wellness Pasta Machine
This stainless steel machine is the one that Ana Belchi uses for conditioning clay. Made in Italy, this Marcato Atlas has the sought after wider 180mm opening perfect for conditioning your polymer clay and creating wide sheets and skinner blends. Capable of rolling clay at 9 different thicknesses from 0.3mm -2.5mm We hope to be able to carry the motor in the future.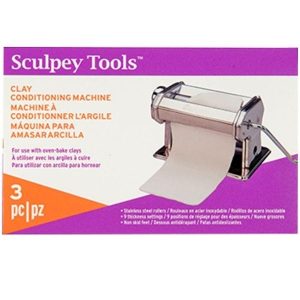 Quick View
Polyform-Sculpey Clay Conditioning Machine Whether you are creating a simple project or a complicated masterpiece, the clay conditioning machine will help make the creating process easier. Perfect for improving pliability, creating flat sheets or various thickness to use with cutters or for caning, creating color blends or adding texture. The clay conditioning machine is loaded with features. The machine has nine different thickness settings, non- skid feet and a C-clamp. New and improved; corrosion resistant stainless steel rollers, no plating on the rollers like other machines on the market, smoother rolling of clay, high quality keyed gearing system for a more durable machine. This 5-1/4x5- 3/4x8-1/4 inch package contains one clay machine with a handles, C clamp and instructions.