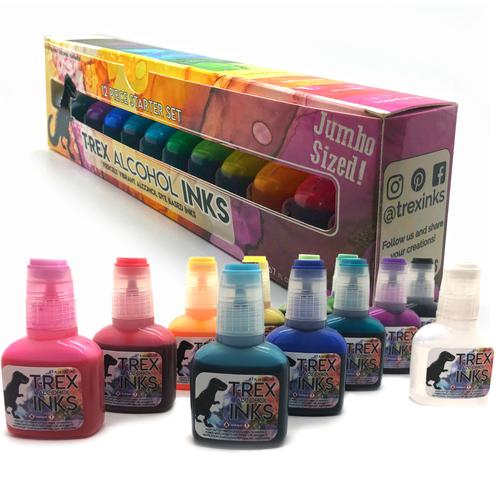 New T-Rex Alcohol Ink
We still have a few of the Starter packs and the Warm Earthtones packs in stock. These bottles hold an amazing amount of alcohol ink!
You can find them here.
As you probably know the supply chain for many products is  still unpredicatable.
I'm hoping the distributor will have more for us soon.
Some info about the T-Rex alcohol inks from it's creators. 
PROFESSIONAL QUALITY: Ultra-premium grade Japanese dye-based inks carefully crafted to provide the highest quality artistic experience.
VIVID UNIQUE COLORS:  colors that are exclusive to T-Rex Inks
JUMBO-SIZED: 12 Jumbo 20ml Alcohol Ink Bottles provides 33-50% more ink per bottle
REUSABLE STORAGE BOX: Keep your inks organized and portable
QUICK-DRYING & INDELIBLE: Our Alcohol Ink sets are water-resistant, 100% acid-free, and Japanese dye-based for creating long-lasting depth, layering & stunning effects
ANTI-CLOGGING & LEAK-RESISTANT: Precision applicators & leak-resistant screw caps means more control with less spills
INCREDIBLY VERSATILE: Create brilliant color on most non-porous surfaces for many art and DIY projects as well as a colorant for epoxy resin