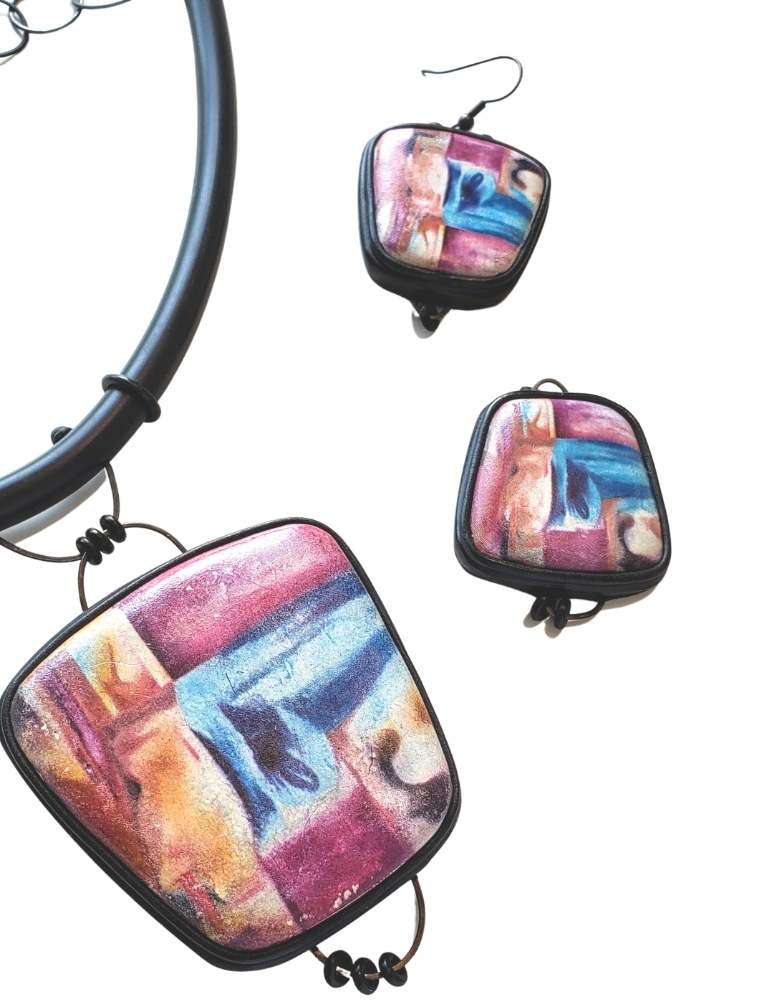 Transferring an image onto polymer clay
Many  polymer clay makers are familiar with the transfer technique. 
Love it, hate it or both, it's the best method for getting an image onto clay.
At times it can be frustrating but other times it will work like a dream.
There are several different versions out there and not all of them work well for everyone. 
The struggle is real.
I can't believe I didn't take any process photos!  I always take photos (I have over 5000 on my phone!)
My only excuse is that I wanted to enjoy the process without any expectations of how things turned out 🙁
The image I used (with permission) is from a painting done by an exceptionally talented artist here in Oakville; Tettey Glover. 
He paints on a grand scale and his latest painting (not yet on his website) was created to use as a label on his very own brand of coffee!
It turns out that there is a coffee roaster right here in Oakville. I can't wait to sample it! 
You can find more of Tettey's work here on Instagram and also on his website.
Tettey and I are thinking of some kind of creative collaboration in the future.  I'll keep you posted.
About my process
I had  luck using Souffle Igloo as my base for the transfer and found that once I burnished the image face down onto the clay I only had to wait about 10 minutes before the image started to appear through the paper.  Then I sprayed it with water and when the image showed through the paper I began to rub the paper with short, up and down movements to remove the paper. 
This technique requires patience as the paper comes off in small bits. 
Once the paper is removed,  the image will likely be sticky, so if you need to handle it further before you bake it, apply a very light amount of cornstarch .
I tented with tin foil to protect the image in case my oven spiked.
The images of Tettey's work were printed using a toner based laser printer. 
The paper I used was Hammermill brand, gloss laser paper 32 lb.
The clay is Souffle Igloo for the transfer and poppyseed for the base and bezel.
The cord is 8mm Buna and the wire is black annealed steel.
The Cabezel Molds I used are the same shape as "Liane" but larger. 
You can find the selection of CaBezels here. 
I hope you'll try this technique. 
Frustrating as it can be, it is very satisfying when the planets align.