Yeah!!!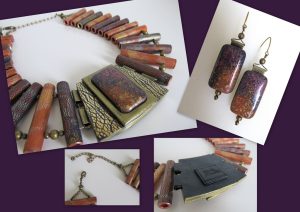 I received my complimentary copies of Art Jewelry magazine a few days ago so I finally got to see what
did
and
didn't
make it onto the pages of the magazine.
This eggplant and pumpkin colored necklace had originally made an appearance but because of space restraints was cut. No worries. I'll still share some of the details of how it was put together here with YOU!!
I mentioned in my last post that "Frame It" was used for the focal piece on the necklace. Once it was baked i just placed it on top of some clay (eggplant color) that had a gold leaf crackled effect. Then i placed 2 metal clips on each side before adding another layer of clay to the back. This made a nice little "sandwich" to keep the clips in place. After baking it i then backed it with a thin piece of black clay and my signature stamp to finish it off nicely.
The clipsTheses clips are often referred to as Japanese paper clips. I bought mine ages ago at Dollarama so I'm not sure if you'll be able to find them there but Michael's should still be carrying them . (Look in the scrap booking section)
I used the "Frame It" CaBezel mold for the earrings as well but I only needed the "cabochon" side of the mold.
The base clay for the earrings and the focal bead on the necklace is whatever was left over after i had created all of the "metal core" beads so there is some of both colors. Once the cabs were baked i painted on a thin layer of liquid clay and sprinkled some fine glitter on top, re-baked for a few minutes and once cooled i added 1 more layer of liquid clay to hold the glitter in place. (Bake briefly and then use a heat gun to create a nice crystal clear finish)
A metal clip was used at the top of the earrings as well.
The grommets used to mimic the look of "metal core" beads in this necklace are copper colored and can be purchased here.
I hope this answers all of your questions as to how this set was constructed. If not, you can always email me
here
with questions or comments.
When i get a chance, I'll blog about how I created the texture in the cabochons below!