We need to clear some space. Please help us make room for some new awesome items!
Showing 1–12 of 17 results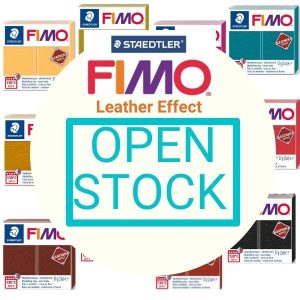 Quick View
FIMO Polymer Clay Leather Effect OPEN STOCK - 57g (2 oz) Choose from 12 colours: Saffron Yellow, Olive, Berry, Lagoon, Ochre, Indigo, Dove Grey, Watermelon, Nut, Ivory, Rust and Black. Think of the gorgeous jewelry, journal covers or home dec projects you could create with a leather look. Get all 12 - 2 oz FIMO Leather Effect colours in a bundle.  Save a bit of time and money when you order all the colours with just 1 click.
Limited time only, we are carrying FIMO White in both 2oz and 1LB sizes and FIMO Black in 1LB here.
Mix with other brands as needed or desired. Looking to start with smaller amounts of each colour? Try the sample pack here.  FIMO leather‑effect is an oven-hardening modelling clay that can be shaped and worked in the same way as FIMO soft. After hardening it looks and feels similar to leather, and you can feel the effect even when you're kneading it. Unlike other oven-hardening types of FIMO, FIMO leather‑effect is hardened for 30 minutes at 130° C / 266° F. After hardening, thinly-rolled sheets are highly flexible, and can be bent, cut with scissors, punched or sewn, for example. This modelling clay is ideal for making unique jewellery pieces such as earrings, necklaces or bracelets. It also makes wonderful leather effect decorations for your home. See below for more information.
Showing 1–12 of 17 results