Bead Making Tools
Shades of Clay is Your Source for Bead Making Tools and more...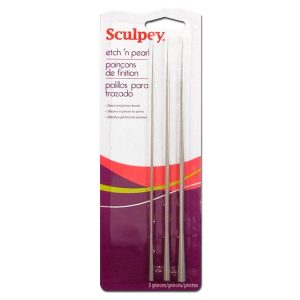 Quick View
POLYFORM-Sculpey Etch 'n Pearl Set
Sculpey® Etch 'n Pearl, set of 3
This set of 3 metal skewers can be used for a variety of unique applications.
Functional points and different sized rods for piercing and baking beads.
Etch detail into clay pieces.
Create three sizes of pearls with concave ends.
Use to pierce your beads before baking.
Use with the bead cores to make special beads for charm bracelets.
Use the pointed ends of these tools to add fine details to clay or to pierce beads. Use the concave ends to create delicate pearl patterns. This package contains three metal Etch 'n Pearl tools in different sizes: 4mm, 6mm, 8mm. Clean with soap and water. Caution: points are extremely sharp: handle with care.