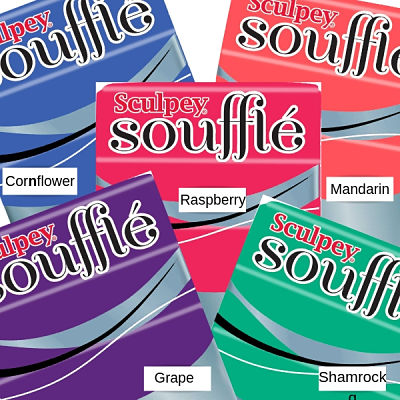 The New Souffle Colours are Here!
"Experience a different kind of polymer clay. Versatile, pliable and perfectly soft, Sculpey® Soufflé™ is an innovative lightweight clay perfect for jewelry making and larger home décor pieces. Its strength and ability to hold detail makes it an excellent clay for advanced techniques such as mokume gane, bargello and caning."
Boasting a beautiful suede finish when baked, Sculpey® Soufflé™ comes in many fashion-forward colors: White, Bluestone, Pumpkin, Poppy Seed, Cowboy, Lagoon, Cherry Pie, Canary, Mocha, Latte, Jade, Sage, So '80s, Sea Glass, Royalty, Turnip, Pistachio, Mai Tai, Concrete, Robin's Egg, Guava.
The newest colours to try are Mandarine, Grape, Raspberry, Cornflower and Shamrock.
Find them here.