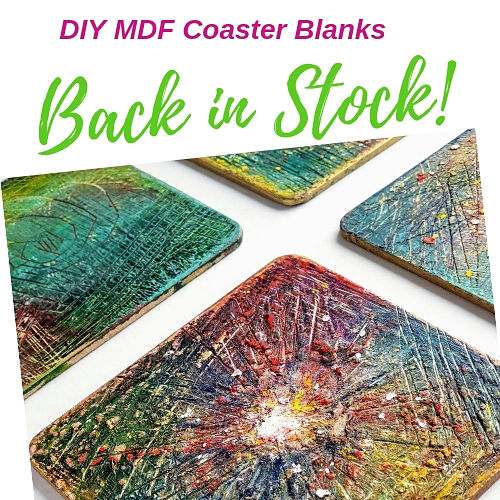 These coaster blanks have endless possabilities!
In the examples shown I have used Gilders Paste Wax and the Kemper Scratch Wire Brush and a Lino cutter to add fine lines and texture. (You can see if the 2nd photo that I used my really, really old Gilders paste as they are in chunks).
So far I can't decide if I want to add a layer of ArtResin and turn them in to actual coasters or if I want to use them as shelf art or keep them together and use them as a grouping on the wall.
I'm also considering turning one into a pendant.
What can I say, I like my jewelry large!
There are so many ways you can use these MDF coaster blanks. Think of them as mini canvas.
Mother's Day is approaching quickly and these coasters are perfect for gift giving!
You could design them to match the mood of mom's favourite drink whether that's a cuppa' Joe or tea, a glass of wine or a martini.
Include them with your other offerings if you sell at craft fairs.
They come in packages of 6 for the reasonable price of just $4.99 and you can find them here.
I went around the edges with a Krylon gold leafing pen to finish them off nicely. We carry them in silver too.