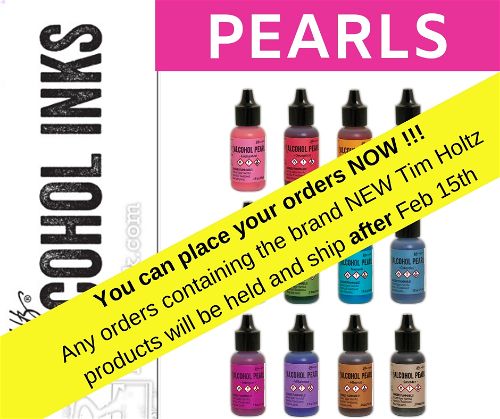 Tim Holtz Brand New Alcohol Ink Pearls and New Substrates will be here VERY SOON!!
Our order will arrive Feb 15th (possibly sooner). You can place your orders today.
PLEASE NOTE:If your order contains ANY of the new products that we are still waiting for, your entire order will be HELD until the new products arrive. We won't ship separately so if you want other products now, then PLEASE order them separately.
Some of the Hard Core Art Panel sizes and the re-designed Blending Pen are delayed at the manufacturer so we won't be getting those quite yet. 🙁
Don't know what I'm talking about?????
Tim Holtz has come up with a new line of alcohol inks called "Pearls" and lots of new substrates too.
Watch the first half of the video to see Tim reveal all.  Just when you thought it couldn't get any better (see the video below).
Find the New Alcohol Ink Pearls here.
We're offering them as a set of 12 with some savings for you here.
We have the open stock singles here and the sets of 3 too here.
The new Hard Core Art Panels and other new substrates are here.
You can find all of our regular alcohol ink products here.