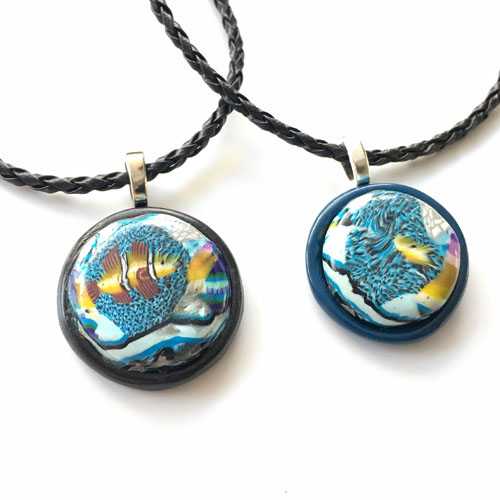 The Beading Gem meets the CaBezel Molds
Back in November, Shades of Clay decided  that it might be a great idea to take part in the
Grand River Bead Society's annual show and sale.
After all, we know just how great polymer clay is for creating beads and jewelry and since we are passionate about sharing any and all information polymer clay we knew it would be a great fit if we attended.
Since I personally know how well the CaBezel molds work for creating fabulous cabochons and bezels
I demo-ed for the entire 2 days of the sale.  We heard so many ewwws and awwws especially from those unfamiliar with polymer clay. We had more than a few converts!
While I was demo-ing I met so many wonderful people, from current customers, to teachers to bloggers.
That's where Pearl Blay comes in. If you haven't heard of her yet, you will want to.
Pearl writes a blog that is full of so much juicy information.
Topics range from Chain Maille to Polymer Clay to Resin.
If you are looking for something new to try, you can likely find it there.
No wonder The Beading Gem has over 32.000 followers!
Her blog is a breath of fresh air.
Pearl just published a review about the CaBezel Molds. It helps to demystify them.
The beading Gem is hosting a contest to win $25. from Shades of Clay.  You still have time to try your luck.
It ends in a week's time at 6 pm EST Monday, February 13, 2017
You can read the article for yourself  here and enter the contest too!