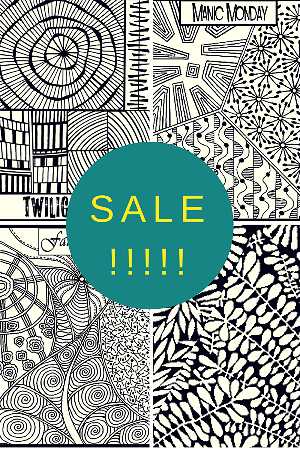 We know that Helen's Breil's texture stamps have been a favourite of many of our customers, so the decision to clear them out to make room for other exciting products was a heartfelt one.
When we decided to have a 48 hr flash sale of Helen's designs (and Pixie Art designs) we had no idea how popular the sale would be!
Your response was overwhelming.
Our newsletter subscribers got first dibs and then we posted it on Facebook.
There was a  frenzy here and we loved it.  So much so, that we have very few left.  Thank you for your enthusiasm!
We have decided to leave the price at $11.99 for a few more days to see if we can make them all disappear.
Now is your chance to get them at such a great price. Other Canadian retailers are charging $11.75 USD. In case you haven't done the math, with the US dollar costing us approximately $1.30 that works out to over $15 regular price. Our US customers have begun to realize that every dollar they are spending on the Shades of Clay website is getting them about $1.30 worth of supplies.
Now is the perfect time to get those texture stamps designed by Helen Breil and Pixie Art!
Don't worry though, we will definitely still be carrying Helen's gorgeous silk screens!
We have all of the new silk screens in stock!