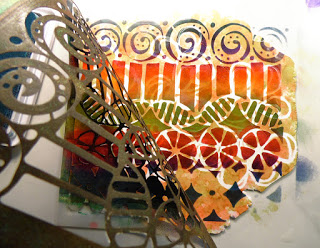 A free tutorial by Wired Orchid designs.
I came across this tutorial that uses stencils (one of my new addictions) and alcohol inks with polymer clay.
It seems to me that stencils today  have the allure that rubber texture stamps once held for the polymer clay world.
Perhaps it's their ability to contain so much detail in such a small space with the added ability to being  lacey and delicate that the rubber texture stamp just couldn't quite achieve?
The ability to use texture paste with a stencil is another bonus that the texture stamp isn't capable of. Opaque texture paste by Ranger is new.
I knew that when I saw these earrings that I had seen this artist's work before on Instagram. When I clicked through for the tutorial it was as I had thought.
Wired Orchid is the creator.
Her use of colour and shape capture my attention every time.
You can catch the free tutorial here at Stencil Girl
For lots of inspiration Wired Orchid's Etsy site is here.
You'll find our new stencils here, alcohol inks abound over here.
Enjoy!