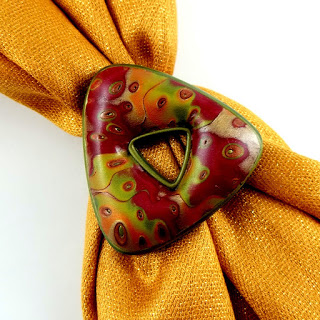 Scarf Clips Now Available….sort of…
Many of you will remember the metal scarf clips that we used to carry.
They were one of our most popular items and we still receive emails to this day asking if we will be bringing them back.
Unfortunately that isn't an option as they are no longer available.
However, Carolyn Good of 2 Good Claymates has come up with an even better solution.
The old clips were fine, but these new ones are the best!
No more threading your scarf through a small hole.
Now you can gently stretch the cord of this ingenious little invention over your scarf and then snug it up with the toggle.
AND the decorative part made of polymer clay can even be switched out because they have interchangeable SNAP Decision components embedded into the back.
Imagine how these will appeal to your customers when you are selling at the craft shows this holiday season.
Congratulations Carolyn what a fantastic idea!
For those of you that are interested in purchasing the It's A Cinch SNAP Scarf Clips you can find them here.
Want a scarf too?  You can find them here.
What a great gift idea!
I'd say that is  Shopping in a SNAP!  Ugh bad pun.
We are thrilled that Carolyn has used some of the CaBezel Jewelry Molds to create the removable SNAP Decision pieces.