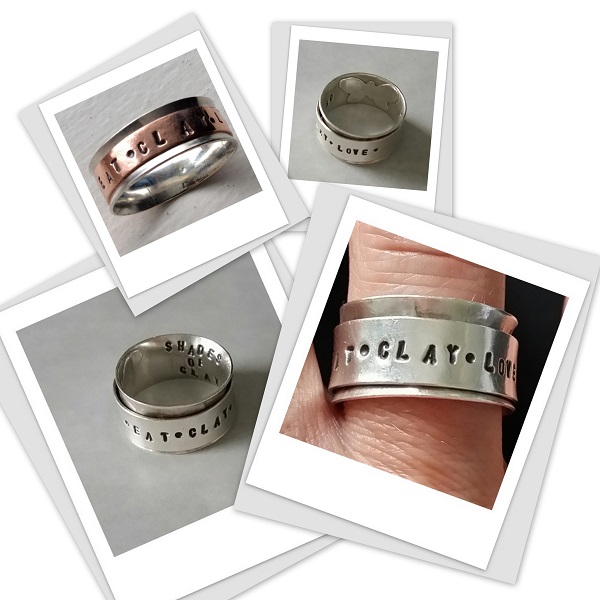 This month I will be celebrating my 50th Birthday.  A few years ago I didn't think that I would ever be announcing that fact to anyone (let alone blogging about it!)
However, as the day approaches I find I am looking forward to it with a whole new perspective.  After all, as we age we are trading our youth for knowledge and experiences. (OK, I'll be honest, some days this trade-off seems less than fair.)
Several months back, a fellow clayer posted a ring that she had created on FaceBook (the one with the copper band) It was love at first sight and I immediately contacted her to see if she would be willing to create one just for me.
She said "Yes" and took it on with gusto even knowing that I wanted it to be personalized.
I of course already loved the EAT . CLAY . LOVE on the spinning band, (how  apropos  since I will be taking a trip to Bali this  spring with Barbara Alexander Bali Fiber Tours.)  (We'll talk more about that in another post.)
I told Moyra (the artist) that I wanted the ring to commemorate my 50th birthday, a secret that I would carry every time I wore my ring.  I wasn't sure what I wanted to say so Moyra came up with it for me. (All I could come up with was 1965, the year I was born.  A little dull to say the least!)
The inscription inside simply says 50 Shades of Clay.  I love it!  There is also a butterfly as I believe they are the most beautiful creatures on earth and they have always held a special place in my heart.
This OOAK ring is something that I will always cherish. Moyra was wonderful to work with and she did an amazing job.
As women we tend to take care of everyone else first, whether it's our children, beloved pets or significant others. Once our children get older we can take back some time to concentrate on ourselves and our own growth.
My life certainly isn't slowing down any at this stage but I have begun to take time for myself.  Age 50 is just the beginning!
Whenever possible I breathe deeply,  enjoy the moment  and tell myself that everything is exactly how it should be at any given moment.
Be happy!
Moyra has an ETSY store and she is willing to create the ring again.  It may be too late to give as a Christmas gift but perhaps it could mark some other special occasion?
Thank you Moyra!