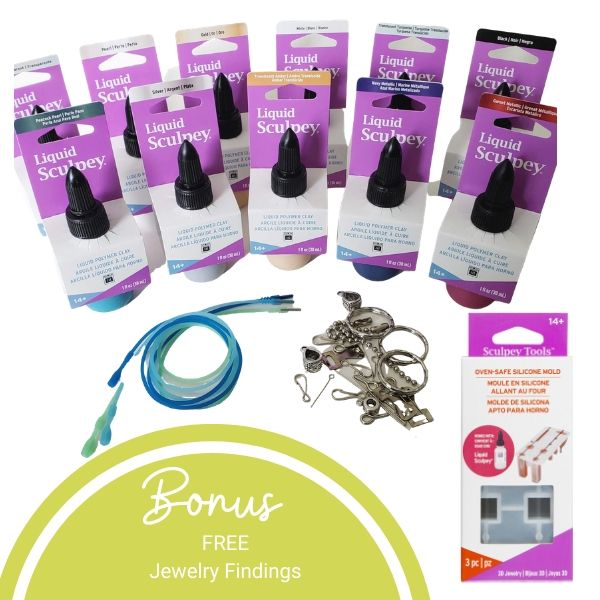 Have you seen the NEW 3D Jewelry Mold by Sculpey Tools?  
Sculpey Tools 3D Jewelry Mold
This beautifully designed mold contains six unique 3D shapes for maximum creativity in your projects! Includes two metal rods to suspend eye hooks while baking – No drilling required!
New fashionable colours of Liquid Sculpey in 1oz bottles available in 10 colours + Clear.  We're only selling them in as a Bundle.
You can still purchase the boxed sets of 3 colours here.
We have the 3D jewelry molds available on their own here.
Watch a video here to see how easy it is to create jewelry with the new 3D mold and liquid Sculpey.
We have created a 3D Mold Bundle for you
You can get the mold and all the NEW 1 oz colours together as a set at a discounted price + receive FREE jewelry findings! (Quantities are limited)
Get these 11 liquid Sculpey Colours
Navy Metallic, Peacock Pearl, Translucent Amber. Translucent Turquoise, Garnet Metallic, Pearl, Silver, Gold, White, Black, Clear
The new Sculpey liquid colours won't be available to us again until July so if this is something that intrigues you, you may want to try it now.