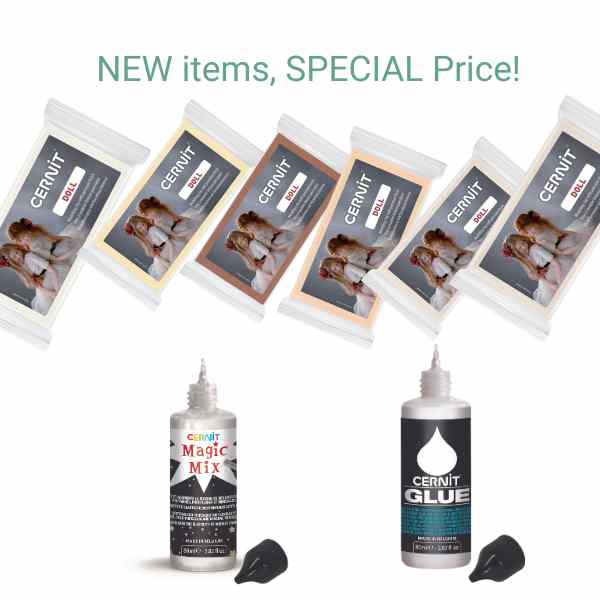 Special Intro Price extended until the end of Novemeber! Don't miss the discount!  
We're delighted to announce the arrival of some new additions to our collection of Cernit products!
To celebrate their debut, we're offering these at a special introductory price—but act swiftly, for this offer won't last forever.
We are now carrying:
Cernit Magic Mix 
This is a clay softener, plasticizer, and imperfection eraser. Enhances clay flexibility and resilience post-baking without color alteration. Apply drop by drop for desired consistency. Also boosts acrylic paint elasticity. Compatible with cold porcelain and mineral clays. You can find it here.
Cernit Glue 
This is a strong glue for use on your polymer clay creations. It can be applied to either baked or unbaked polymer clay.
Sticks effortlessly with only light pressure.It must be baked after application (max 130C for a max of 30 mins.)  You can find it here. 
And lastly……
Cernit Doll Polymer Clay
When I was in my Artdoll making phase, this brand was sought after and very hard to come by.
Easy to work with, durable, and detail-friendly.
Bakes to a resilient finish. Ideal for both newbies and pros in doll-making.
Cernit Doll series: 5 flesh tones for a porcelain finish, plus 1 unique translucent flesh tone.
I was only able to get a small supply of this specialty clay so I'm offering it at an
introductory price of $20
for a limited time so get it while there is a great selection of colours. You can find it
here.
Not into creating Artdolls?
Why not take advantage of the great price and use it to create sculptures or jewelry?
Mix with your favourite polymer clay colours and see what you get.
There are no rules for artists!


What the heck……. since artists have no rules……..
I'm having a sale on our Cernit
Opaline
and Cernit
Nature
series too!
Just $2.99 each for a limited time only.
All for just a limited time only!